London is my kind of "town": I just love to go there! In these pages I'll try to convey some of the things that I like about London - perhaps luring you into going there, too? :-)

First here are a few thoughts on how to get there and where - and how - to stay.

Then, when in London one of the main things I like is simply walking around and enjoying the city, seeing it's buildings and its people. Also there are many excellent leisure walks in and around London. For that you'll need a map. A thing that also amuses me is the diversity of the naming of (generally) paved surfaces you find in London. It is my impression that you'll find substantially more "streets" in London (and probably the rest of the country?) not named <something> Street or Road than you would in Denmark. Also there are some names you'll probably never find in DK, such as Crescent or Mews.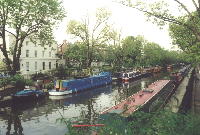 In our recent visit to London we took a walk along Regent's Canal from Little Venice to Camden Lock (and Camden Town). It's a very lovely walk and a lot of the narrow-boats are very picturesque. Also, when passing the London Zoo (on the south side of the canal), do "climb" Primrose Hill just opposite the zoo on the north side for
a great view of the London skyline.

At Camden Lock there's a market, Camden Lock Market. There I picked up
Blade Runner

at half price in Camden Lock Bookstore (I'm into books, see my book pages: "The Library") but I'm not sure that bookstore exists anymore(?)
(Other links to Camden (Lock) Market are this and this.)

We went the same way back, only this time by boat. There's a narrow-boat "canal bus" service that goes about once an hour and the journey time from Camden Lock to Little Venice is app. 45 min. In DKish there's a saying that you can be hanging with your behind right at the face of the water's surface ("at hænge me r.... i vandskorpen"), but in these boats you're actually sitting below the surface so that you view everything from a point not much above the water line; quite a peculiar sensation. During the ride we were advised not to worry about a potential ship wreck as the canal is only about 4 ft. deep! (i.e. I suppose we could only "sink" about half a ft.?).

There are a lot of resources available on the Net about the canals, e.g. something about the traditional decorations of the narrow-boats, "Roses and Castles", in the "Folk Art" section on
. Or see the London Canal Museum. But there are many more.



Also, last time in London we had a beautiful walk from Kew Gardens to Richmond along the Thames. We stopped at Richmond, but as far as I know you can actually walk all the way out to Hampton Court Palace. Now that is definitely worth a visit! But it might be too long a walk out there if you also want to have some time seeing the palace, so in that case better take the train from Waterloo Station (as I recall). Anyway, on the Kew Gardens to Richmond walk you see a lot of birds on the banks of the river, mainly herrens and some geese.
In Richmond we turned left just after passing under Twickenham Rd. and the rail bridge on Old Palace Lane and had lunch at The White Swan.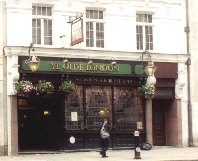 Now, there's another thing we like very much when going to London: having lunch at the pubs! The White Swan in Richmond is nice - and the food good(!) - but you might not want to go all the way out to Richmond just to have lunch. But in general there are excellent places to go everywhere - the trick is just to find them(!) In London itself (and actually this one is (now: was:-( almost in London "itself", i.e. the City) our favourite place to have lunch was Ye Olde London (Est. 1749).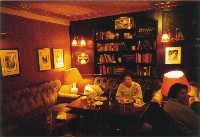 When you got inside you could head down the stairs on the left and enjoy a pint (or two - but come early then, because at around 2 p.m. your "thrown out") in the library'ish corner (see pic to the right). However, when in London in January 2003 to our horror (pun intended!) we discovered that the cozy old pub had been converted to an Eerie Pub Co pub called The Bell, Book & Candle. Well, if you're looking for a "theme" place and not your traditional old British pub I'm sure it's a good enough place; see for yourself - or check their website first (lots of photos).

Another favourite is The Sherlock Holmes (Pub/Lounge Bar/Restaurant) which is not located in Baker Street, as you might think, but just down Northhumberland Street from Trafalger Sq. (to the south-east).

I would also recommend The Dickens Inn in St. Katharine's Dock (not least for the dock area which is very nice and The Trafalgar Tavern in Greenwich (and a couple of pubs in the Primrose Hill / Camden area), but there are plenty of excellent pubs around and I suggest you prepare your pub visits by checking the beer in the evening site.


(More to be added - but it may (No: definitely will!) be a while:-)


(While waiting - and if you read DKish - you might wish to read the above mentioned notes that I once wrote to someone going to London (and which has since been used by several others)).